"On the Move" Walking Program
Aging & Family Services, in conjunction with WV on the Move, began a walking program in 2005. This program recognizes the sedentary problem facing our county and attempts to help address it. The mobility and isolation issues senior citizens face are even more challenging. Over 300 participants have registered for this program since it's inception.
During the program, participants log their steps daily and report them to the senior center or nutrition site on a weekly basis. The steps are converted into miles and the distance is marked on a predetermined route each year.
Currently, participants are progressing on a route up US Route 1. This route, a major East Coast highway, is actually the oldest highway in the United States and runs over 2,000 miles from Key West Florida north to Fort Kent, Maine. Walkers can view their progress as large maps are placed in the senior centers.
Seven walkers have reached the 2,377 mile destination over the past few years: Tom Grove, Rita Donahoe, Wilma Fout, Bill Lyon, Judy Mastantonio, Frances McDougald and Jean Braithwaite. A few others are nearly the finish line. These walkers are now taking a "short" 620 mile trek on the National Road or Cumberland Road from Baltimore west to St. Louis.
Past journeys have taken the walkers on the famous Route 66 and around the state of West Virginia.
A ten-week walking program is held in the spring and a six-week program is held each fall. There is no fee to register and we would encourage anyone to join us during our next opportunity.
Aging & Family Services began an exclusive "million-step" club as a part of this walking program. Special recognition is given to walkers who have reached one-million steps during any of the official walking programs. One-million steps is equivalent to 500 miles.
Those who have reached this milestone since 2005 and members of this club are:
Curtis Crawford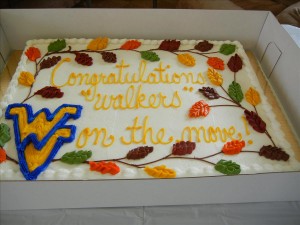 Naomi Snider
Wilma Fout
Jim Burdock
Sue Burdock
Tom Braithwaite
Jean Braithwaite
Pauline Lambka
Bill Lyon
Tom Grove
Peggy McDermit
Judy Mastrantonio
Frances McDougald
Rita Donahoe
Carl Donahoe
Betty Spiggle
Arthur Clifford
Eileen Capel
David Hendricks
Donna Shreve
Janice Rogers