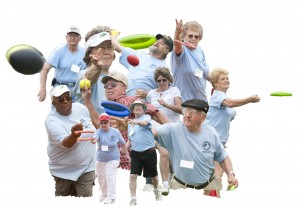 Aging & Family Services of Mineral County proudly sponsors the Mountain State Senior Olympics (formerly Mineral County) in June of each year. This event is held at Potomac State College in Keyser. Annually, over 125 seniors from the surrounding areas participated in a variety of competitions. The competition runs throughout the week and finishes with the awards ceremony on a Friday afternoon. Aging & Family Services of Mineral County began hosting the event in 2002.
The Senior Olympics philosophy is to provide activities for all seniors regardless of age or athletic ability. From horseshoes to basketball and from bingo to the spelling bee; events are chosen to include the physical as well as the nonphysical. This ensures the accommodation of all skill levels and promotes an atmosphere of competition while still focusing on the importance of socialization. Events such as the picnic, banquet, and the talent show allow the participants to become better acquainted with each other.
Events at these Olympics include Bocce, Corn-hole toss, Horse Shoes, Football throw, Frisbee toss, Poker, artificial flower arrangements, and live plants. There were seven baking categories, eleven craft categories, talent events, seven track and field events, basketball shooting, golf putting, bowling, billiards, ping pong, horseshoes, scrabble, and a spelling bee.
2021 Tentative Olympic Dates – Tuesday, June 15th- Friday, June 18th