Affordable (Private Pay) In-Home Care Services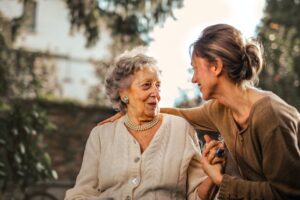 In some instances, potential clients may not qualify for state and federal in-home care programs. Aging & Family Services offers home care aides, companion care, housekeeping services, and supervisory nursing services within a client's home or place of residence for an affordable hourly rate. The caregivers provide a wide variety and range of services that are needed by a senior or family in order to allow an aging person to remain at home.
Our home care offers many unique benefits and provides peace of mind and security to you and your loved ones. Our agency directly employs, screens, trains, and bond our caregivers. In addition, we handle all scheduling and payroll management. They offer the benefits of caregiver monitoring and individualized care plans. Payments for care are paid privately, as opposed to Medicare.
You deserve the peace of mind, trust, and security that working with Aging & Family Services can provide. We must adhere to the many policies, procedures, and ethical standards for home care. Given the significant advantages for consumers that licensed employer companies provide, the small cost savings offered by individuals or independent contractor agencies is probably not worth the risk.
Home care choices can be difficult. As you consider where to find trusted and reliable care for you or your loved one, consider Aging & Family Services. You will love the peace of mind and security that comes with the choice.