2019 "Conquer the Dam" 5K
Aging & Family Services
2019 "Conquer the Dam" 5K
Saturday, May 11, 2019
Aging & Family Services is proud to announce that we will be hosting our eighth annual "Conquer the Dam" 5K fundraising run/walk at Jennings Randolph Lake on Saturday, May 11, 2019. Proceeds from this event will support the Meals on Wheels program of Mineral County. The highlight of this event is that runners and walkers will travel over the dam and spillway, which are normally closed to public travel. "Conquer the Dam" is one of the most scenic 5Ks in our area. Louie Kitzmiller, race director stated, "We are anticipating a record turnout, and we hope that the community will take advantage of this opportunity to support the Meals on Wheels program, a cause and a location that is worth the drive." The 2017 event drew a crowd of over 120 competitors from around the tri-state area.
Early registration for the event is $20 if received by May 1, 2019. The registration fee will rise to $25 after May 1. Entry fee for individuals 18 and younger is $15, and the maximum entry fee for an immediate family is $50. Race day registration is scheduled from 8:30 AM until 9:15 AM at the Howell Run Picnic Area and the race will begin at 9:30 AM. The awards ceremony will take place at the conclusion of the race at the Howell Run Picnic area. Cash prizes will be awarded to the top two male and female overall runners. Non-cash awards will be issued to the top three male and female competitors in various age groups. Contact Aging & Family Services at 304-788-5467 or lkitzmiller@wvaging.com for applications and further information. Applications can be found at a senior center or below.
A concurrent fun walk will be held. Participants will have an opportunity to walk across the Jennings Randolph Dam.
The Meals on Wheels Program of Mineral County assists people who are homebound by providing a hot, nutritious meal each weekday. Designed to help prevent unnecessary institutionalization, this program helps the frail elderly maintain independence and avoid social isolation.
Staff members, who deliver meals to homebound older persons often spend some time with the elderly, helping to decrease their feelings of isolation. Additionally, these staff members, also check on the welfare of the homebound elderly and are encouraged to report any health or other problems that they may note during their visits.
In addition to providing nutrition and nutrition-related services, the Elderly Nutrition Program provides an important link to other needed supportive in-home and community-based services, such as that of homemaker-home health aide services, or transportation coverage, and even physical activity programs.
We look forward to seeing everyone at this year's 5K!
Download your application here: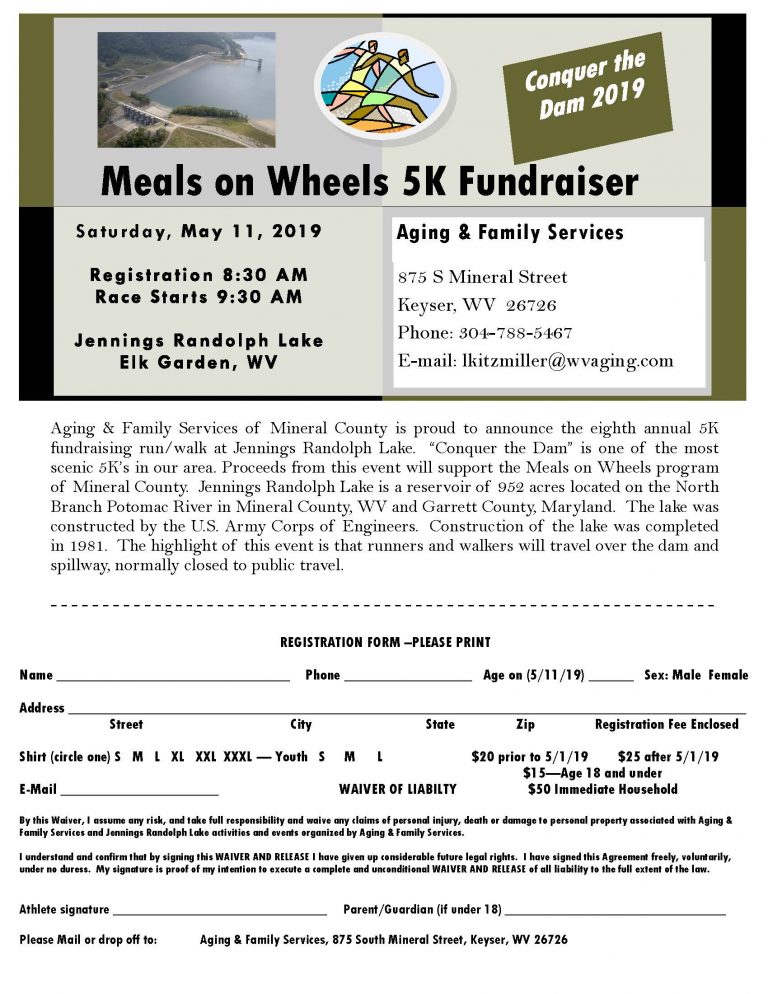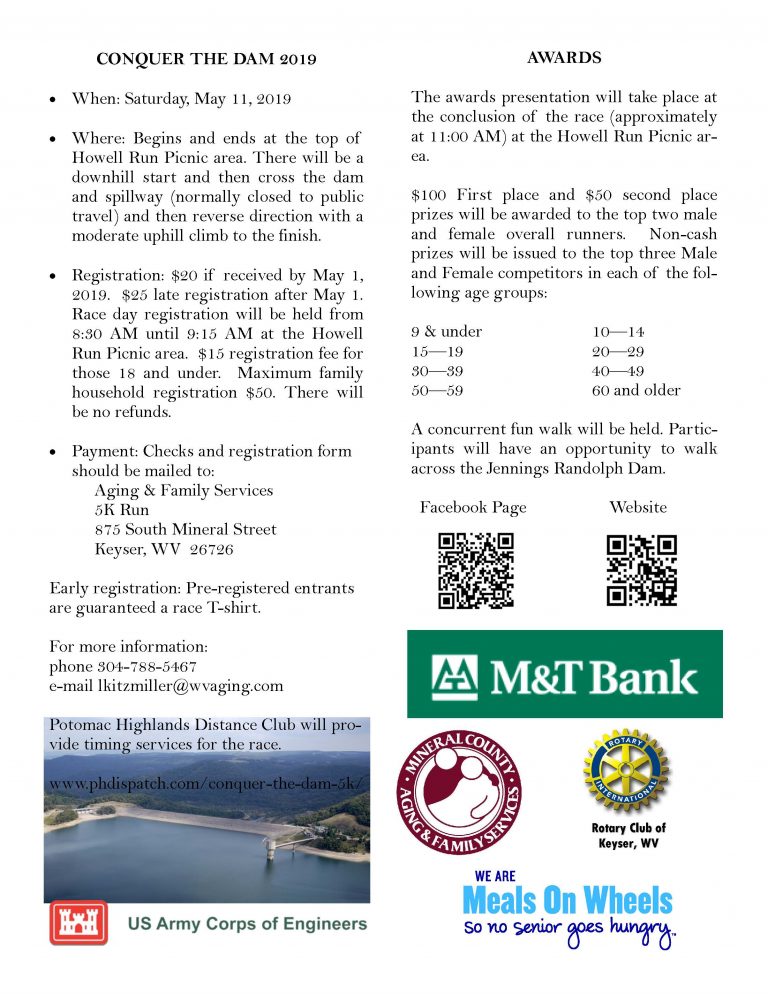 The permanent race page can be found here: Race page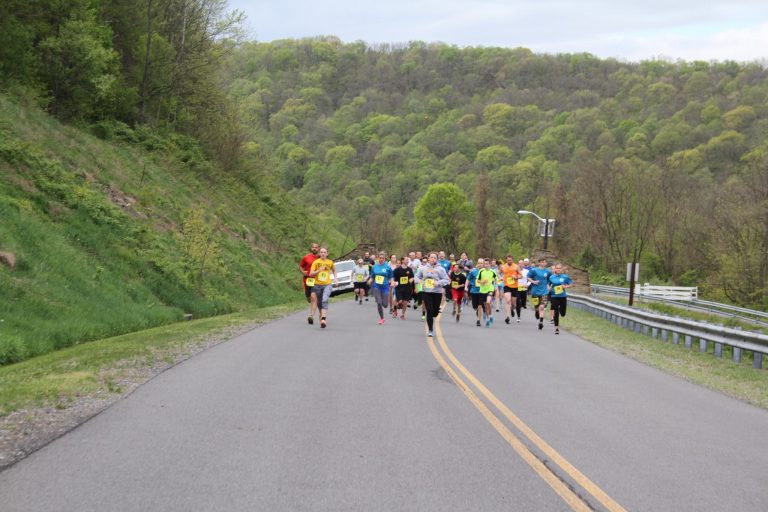 Course record from 2012- 2018:
Conquer the Dam 5K Run/Walk (2012-2018)
Jennings Randolph Lake, Elk Garden, WV
Benefit Aging & Family Services – Meals on Wheels
Course Records
Men's Open: Gavin Caupp, 17:31.0 (2015)
Men's Master (40-plus): Wes Boddy, 19:36.3 (2013)
Women's Open: Jen Sober, 22:32.0 (2016)
Women's Master: Jen Sober, 22:32.0 (2016)
TOP 25 Men's Times (2012-2017)
Place
Name
Age
Time
Year
1
Gavin Caupp
25
17:31.0
2015
2
Ian McFawn
25
17:35.4
2018
3
Lucas Young
22
17:53.0
2018
4
Craig Westfall
21
19:17.0
2017
5
Wes Boddy
42
19:36.3
2013
6
Robert Weaver
16
19:44.9
2018
7
Tony Shillingburg
28
19:47.5
2015
8
Joe Cross
32
20:23.8
2013
9
Tyler Staggs
15
21:15.3
2015
10
Colby Mallery
12
21:22.7
2016
11
David Redman
30
21:23.7
2016
12
Colby Mallery
13
21:28.0
2017
13
Stephen Myers
32
21:56.0
2018
14
Kevin Couzzo
41
21:58.3
2016
15
Brett Thomas
14
22:04.7
2015
16
Tim Wagoner
47
22:06.3
2013
17
Kevin Cuozzo
38
22:23.0
2013
18
Nick McGettigan
18
22:24.5
2012
19
David Redman
28
22:25.5
2014
20
Steven Lowery
19
22:26.3
2014
21
Kevin Simon
46
22:28.7
2012
22
Will Boddy
11
22:34.0
2018
23
Jesse Wilson
17
22:37.9
2014
24
Brendan Pattison
12
22:46.4
2015
25
Dyllan See
16
22:57.0
2017
TOP 25 Women's Times (2012-2018)
Place
Name
Age
Time
Year
1
Jen Sober
43
22:32.0
2016
2
Naomi Boddy
37
22:55.5
2012
3
Krystal Stair
31
23:04.4
2018
4
Naomi Boddy
38
23:12.8
2013
5
Krystal Stair
30
23:13.0
2017
6
Jenny Emerick
46
23:47.4
2018
7
Jeanette Gerrish
29
24:46.9
2012
8
Ashley Kitzmiller
30
25:00.4
2012
9
Krystal Stair
29
25:00.7
2016
10
Naomi Boddy
40
25:11.6
2015
11
Ashley Kitzmiller
31
25:20.1
2013
12
Naomi Boddy
39
25:26.2
2014
13
Leanna Haines
37
25:49.9
2018
14
Krystal Stair
27
25:58.9
2014
15
Krystal Stair
28
26:00.2
2015
16
Sarah Boddy
19
26:07.8
2014
17
Cortney Butts
13
26:15.7
2015
18
Ashley Kitzmiller
32
26:15.9
2014
19
Brenna Earnest
41
26:17.6
2015
20
Faith Butts
18
26:24.2
2016
21
Brenna Earnest
42
26:29.2
2016
22
Amy Clem
32
26:35.9
2018
23
Jasmine Redman
18
26:44.9
2012
24
Addison Mallery
15
26:56.4
2013
25
Ashley Lease
34
27:42.0
2017