We are still walking this year…
Our "On the Move" walking program held in Spring and Fall is changing. This year, we will have one walking program beginning at the end of June 2021 in conjunction with our virtual 2021 Senior Olympics. If you would still like your steps tracked across Route 50 for your own Spring walk, give us a call, and we will assist you. 304-788-5467.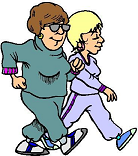 Even though our walking program is later, keep two essential items in mind: 1) Continue to stay physically active, and if you'd like, you can even email or message us with your walking totals. 2) Stay tuned for more information on the 2021 "On the Move" walking program! Thank you to all our past participants. We look forward to walking with you again this year.
---
History of Walking Program
Aging & Family Services, in conjunction with WV on the Move, began a walking program in 2005. This program recognizes the sedentary problem facing our community and attempts to help address it. The mobility and isolation issues senior citizens face are even more challenging. Over 400 participants have registered for this program since its inception.

Check Back Soon!
More Info Coming!