ELK GARDEN, WV, May 7, 2022 – With less than favorable weather conditions, 64 runners crossed the finish line at the 11th annual "Conquer the Dam 5K" Race for Meals on Wheels.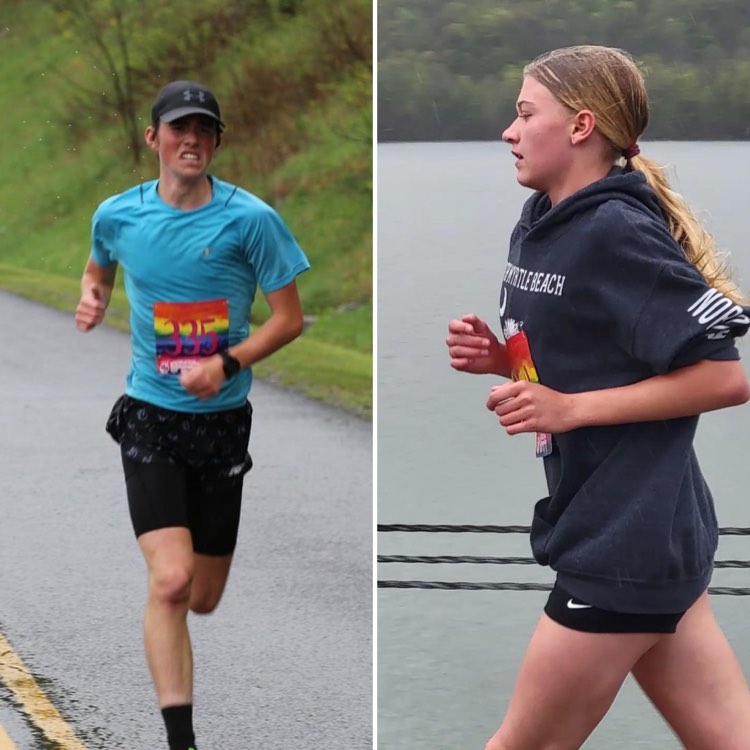 Despite flooding rains Anthony Sanders of Ridgley, WV was the overall winner crossing the finish line in a blazing 17:31.4. The 19-year old's attempt to dethrone Gavin Caupp (2012) was just 4 tenths of a second off the record.
Zach Stickley finished second overall, finishing in 19:31.2 and beating last year's champion, Craig Westfall, 26, Keyser, WV by 25 seconds. Stickley improved his 2021 time by an amazing 1:52. Westfall finished 3rd, while Brigham Lott, 16, Fort Ashby, WV, 22:04 rounded out the top four.
Billy Meeks, 50, Keyser, WV, 23:27 finished 5th overall and won the master's division (40+) in the race to the finish line, which is situated adjacent to the Jennings Randolph Lake – Howell Run Pavilion Area — and it's at the top of a lengthy incline.
Ainsley Friend, 13, Keyser, WV was the top female runner with a time of 23:41.9. Friend is the youngest ever winner of the Women's division. Friend took advantage of a sub 50-degree temperature and was little bothered by the wet pavement.
Taylor Kitzmiller-Bosley, 12, Oakland, MD finished 2nd in the women's division and 7th overall. Scott Braithwaite, 35, Keyser, WV finished 8th with a time of 24:17, followed by Cole Cook, 13, Keyser, WV, 24:35.
Ashley Kitzmiller, 40, of Oakland, MD, 24:36 won the women's masters division (40+), finishing 10th overall followed by runner up Ginger Roby, 47, Maysville, WV, 12th overall with a time of 25:30. For the 60+ category, Cindi Bowen, 61, Amherst, VA, 28:55, finished with the fastest female time, followed by Rhonda Larson, 65, Rawlings, MD, 35:40. Bill Wagoner, 64, Uniontown, OH, 28:18 toped the men, followed by David Webb, 76, Burlington, WV, 38:59.
The annual 5K run/walk raises funds to support the Meals on Wheels program administered by Aging and Family Services of Mineral County. More information on this vital program can be found at www.wvaging.com.